Composite Structure and the House of Commons
— August 11, 2014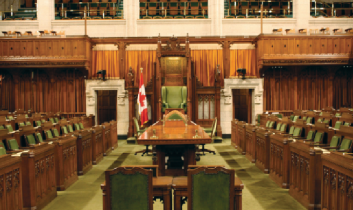 Preamble
I am providing this preamble to clarify the meanings of abbreviations that I use here. For those of you new to the aviation industry and/or new to Canada, these abbreviations are all commonly used in the aviation industry and you may come upon them in your day-to-day work.
AME: Aircraft Maintenance Engineer
AMO: Approved Maintenance Organization as approved by TC
ATA: Air Transport Association
CAR: Canadian Aviation Regulation, which is a law of Canada
SMS: Safety Management System(s)
STD: TC approved standard
TATC: Transportation Appeal Tribunal of Canada
TC: (or minister) indicates Transport Canada headquarters in Ottawa
Below you will note that the BOLD denote a quotation. I do this in some cases because of the large amount of material that I quote. Please be aware of this as you read on.
On the subject of composites in aircraft structures, TC does have some specific documentation. Standard 573.02 AMO Certificates states:
(8) Ratings in the Structure category are issued in respect of the repair or modification of structures of the following kinds:
(d) Composite—A composite structure rating covers all repairs and modifications to composite structures, including any integral bonded metal members or fasteners. This rating also covers the repair of metal or wood sheathed laminated structures.
Work carried out under these ratings includes on-aircraft work where indicated in the appropriate limitations. Where on-aircraft work is authorized, the provisions of Subparts 571 and 573 of the CARs will apply to any person who is authorized to issue a maintenance release for work conducted on an aircraft.
That section of the standards goes on to define composites in TC's view:
Information Note: The term "Composite Structures" means structures composed of plastic resin materials reinforced by non-metallic fibres. These include, but are not limited to graphite, aramid (kevlar), and glass fibre filaments. Metal-sheathed honeycomb is a sheet metal structure, whereas metal/wood sandwich board is a wooden structure.
The TC sample AME Log Book with aircraft maintenance experience sample tasks includes the following:
ATA:51 (Structures) – Composite repair.
Sealing
Prepare metal/wood/composite surfaces for sealing
Select/mix and apply sealants to seams, joints and fasteners
Composite Structures – Composite Repairs
Perform sanding/grinding routing of damaged area
Prepare damaged area by step/taper standing
Perform fabrication of pattern for cutting cloth patches
Perform wetting-out of fabric with resin and cut out patches
Perform a lay-up repair ply/plies using wet/pre-preg cloth
Perform curing of repairs at room temperature
Perform curing of repairs with heat blankets/oven
Perform check for delamination
Perform installation of inserts
Perform sanding/priming and painting of repaired surface
Composite Fabrication
Perform fabrication of master model.
Perform removal of mould from master model.
Perform fabrication of cutting pattern for lay-up plies.
Prepare plies for wet/pre-preg lay-up.
Prepare mould surface.
Perform curing of lay-up with heat blanket/oven/autoclave/
     room temperature.
Perform check for improper bonding.
Perform trimming of excess from parts/structure being
      fabricated.
Perform sanding/priming /painting of fabricated parts.
For an AME applicant for the "S" Rating TC published their Study and Reference Guide – "S" Rating Technical Examinations. This guide lists the topics for the exam including the following:
11.0 AIRCRAFT SHEET METAL, TUBULAR, WOOD AND COMPOSITE STRUCTURES
11.1 Sheet metal materials
11.2 Aircraft fabrics
11.3 Wood
11.4 Plastics, fiberglass and composite materials
16.0 COMPOSITE
16.1 Repairs and fabrication
16.2 Assessment methods, techniques and practices – Theory, application and inspection
16.3 Repair materials – Identification and application
TC also publishes advisory information in Airworthiness Notices (AN). Aircraft maintenance personnel need to be aware of these. AN AC012 addresses Aircraft Maintenance Training Programs for AMOs states:
ACA should only be granted after the organization has confirmed that the licence holder has undergone appropriate training on the aircraft, engine or system types to be released.
As well, AMO training policy should also include sufficient safeguards to ensure that individuals are properly trained in new technology where that is a factor affecting maintenance release privileges. Technology not previously experienced by the individual, such as … composite structures, need to be adequately addressed.
For those of you involved in design of composite repairs, TC Advisory Circular document AC 500-009 Composite Aircraft Structure will be of interest.
Now for something completely different. AMU regular readers may have noticed that I may have taken the occasional opportunity to reproach the minister for TC's deficiencies and general malaise. In late May, I was asked to appear before a government of Canada committee and answer questions.  No, it was not the RCMP or CSIS. It was an invitation to appear before the House of Commons Standing Committee on Transport, Infrastructure and Communities, on June 5. The topics to be addressed were the effects of SMS and aviation safety trends in Canada.
Being your humble servant as I am, I was surprised.  The committee allowed me 10 minutes to present my witness statement. They also allowed one and a half hours to answer questions from the members of parliament.  To prepare, I condensed my opinions on SMS and on TC's approach to aviation safety into a 10-minute presentation. Here is the text of my presentation quoted from the Parliament of Canada web site:
Thank you Chair, Honourable Members
My name is Norman Chalmers, President of Pacific Airworthiness Consulting.
I have 47 years of experience in the business of aviation safety and aircraft airworthiness including 25 years in Transport Canada Civil Aviation (TCCA) in various positions including periods as acting Regional Manager.
Besides consulting I write a bi-monthly column for Air Maintenance Update Magazine, which is widely read in Canada and the United States of America. Today I limit my comments to Safety Management Systems (SMS) as implemented by Transport Canada Civil Aviation.
My position regarding Transport Canada SMS:
SMS is a social engineering experiment on a huge scale with the Canadian aviation industry safety outcomes as the study objective and the travelling public as the victims. The long term consequences of these changes are unpredictable because Transport Canada SMS has no precedent or proven model.
SMS is a good idea, essentially the same as Total Quality Management.  Safety Management Systems, if properly embraced by management and workers, can help companies improve themselves in many areas.
SMS is not a regulatory regime.  It is essentially a philosophy invented by reductionist university professors who have studied and dissected disasters in the petrochemical industry (e.g. British Petroleum).  (Reason, Hopkins, etc.)
SMS cannot successfully replace regulatory oversight.
SMS is a Transport Canada tactic to save money on employee costs including numbers and qualifications.
SMS is a Transport Canada tactic to avoid being sued in court for allowing unsafe aviation operations
SMS was sold to Canadians, you included, using scare tactics including using the widely distributed worldwide hull loss projections.
The lawmakers of Canada have been negligent. They have ignored the warnings of Canada's best including Mr. Moshansky in this Committee's 2007 report.
Canada has one of the safest transportation systems in the world as a result of the corporate safety culture of companies and people working in the industry. It is also a result of effective regulatory requirements.
Transport Canada has started to dismantle those requirements.
SMS implementation by Transport Canada will do long term and enduring damage to aviation safety in Canada
It will soon be too late to prevent that damage. Canada will face a very difficult time rebuilding the safety infrastructure that is now being destroyed.
Public opinions regarding "safe aviation" and "safety" do not coincide with Transport Canada's definition and are not supported by Transport Canada actions.
SMS and PVI implementation:
SMS is not an "additional layer" as it was sold to your 2008 House of Commons Committee. It was never planned as an additional layer. At the same time as those individuals were telling that Commons Committee that SMS was an additional layer they were telling us inspectors to stop doing audits. Transport Canada leaders were not truthful.
SMS Assessments and Program Validation Inspections have almost totally replaced audits and inspections. I know of no regulatory audits in the last five years.
The Aeronautics Act regarding SMS does not address all aspects of SMS as implemented and embeds a vague level of safety.
The CAR 107 regarding SMS is vague and nebulous and at barely 300 words. This CAR leaves the requirements in the hands, and subject to whims, of the bureaucrats at all levels from senior mandarins to inspectors and encourages bullying.
Transport Canada Staff Instruction SUR-001 Revision 5 is the primary SMS compliance document. At about 33,000 words it defines and implements the "intent" of the Act. It is a third or fourth level document.
To understand SMS you must be conversant with SI SUR001, which the vast majority of the aviation community is not familiar.
Other areas of Transport Canada infrastructure have been left without support.
No credible organization supports the current directions of Transport Canada.
PVIs have totally replaced audits for non CAR705 SMS organizations.
SMS was implemented without any risk assessment or human resources planning.
SMS was designed and pushed into place by people with no experience in our civil aviation industry.
There was no formal or recorded public consultation. The program bypassed the CARAC process of public consultation despite Transport Canada assurance regarding CARAC involvement.  
The training for inspectors was and is poor.  
SMS is implemented but has little if any effect with the SMS companies under CAR 705.  
SMS implementation for the rest of the industry (non 705) has stalled or died.
Decaying Regulatory Infrastructure:
Transport Canada's policy makers and Ottawa staff total focus on SMS has left other areas of aviation regulation to decay. Implementation and administration of SMS has been taking up almost all of the time and efforts of the whole staff strength of Transport Canada.  
Transportation Safety Board of Canada aviation Watch List contains 85 "open" safety recommendations; some with Transport Canada responses were found Unsatisfactory (A13-03)
There are regulations and standards that have been technically wrong for years.
The results of Transport Canada Civil Aviation overall attitudes and actions can be easily found in the reactions of public safety experts.
You will also find further evidence in the Public Service Employee Survey Organizational Results.
Examine the numbers of lost work days due to TC employees absent on medical grounds with emphasis on "stress leave".
The long-term results on aviation safety of Transport Canada's new approach including the reliance on SMS will only be evident in the long term when Canada's aviation safety record changes in relation to the rest of the technologically developed world that currently shows improving safety.
If the government is truly interested in aviation safety in Canada and in the effects of SMS implementation, please conduct two opinion surveys of:
Transport's own inspectors and  Canadian aviation industry
Following the presentations of we three witnesses, the question and answer session began. One of our Canadian government members of parliament stated:
I hardly know where to begin in the wake of the testimony. It's frankly unbelievable. It's shocking to hear what we're hearing from front-line inspectors, from folks with 30, 40, and 50 years … with 100 years of combined experience on the front lines—former pilots—because it flies in the face of everything we've been hearing this week from the government, from the government's Transport Canada officials, and from the airlines.
So our politicians and parliament don't know the truth about SMS implementation and the major changes at TC.  You may ask, "Who is responsible for mandating the implementation of SMS?"  If you want to read the transcript of the full two-hour meeting go to this internet site:
http://www.parl.gc.ca/HousePublications/Publication.aspx?DocId=6648544&Language=E&Mode=1
There is an old saying "Put up or shut up".  I guess that was me doing my "put up" so now I need not shut up.
Now back to the ongoing saga of Mr. B vs. TC.  If you remember from my previous columns, TC appealed against the ruling of the TATC.  That full Tribunal hearing was held in April but the decision is not available at the time of writing this.  I suspect that I will have something on this to report next issue.
That's all for now folks.  Until next time be good and do right.
Please be aware that I am not a lawyer or legal expert. What I write in my column is not legal advice or legal opinion. If you face a legal issue, you must get specific legal advice from a lawyer and preferably one with experience in the aviation matters in your own country/state.
About The Author

NORM CHALMERS worked with Transport Canada as an Airworthiness Inspector for 25 years. Before this, from 1967 to 1983, he worked in the aircraft maintenance industry in and around Western Canada and in the Arctic. His industry experience includes the operational maintenance of normal and commuter category aircraft and smaller transport category aircraft in the corporate sector as well as several years working in major repairs in the helicopter sector. As an Airworthiness Inspector, he has been responsible for most duties related to the position, including the approval of all aspects of maintenance, manufacturing, training, and responsibilities related to distribution organizations. Norm now operates Pacific Airworthiness Consulting; www.pacificairworthiness.ca
View all articles by Norm Chalmers.