Vector Plots a Rising Flight Line
— January 27, 2014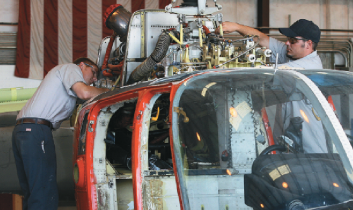 A Canadian-based MRO provider passes some important checkpoints in what promises to be an interesting year in the rotary aircraft business.
The year 2014 is already shaping up to be a busy one at Vector Aerospace, the Canadian-based maintenance, repair and overhaul provider that offers support for turbine engines, helicopters, fixed wing aircraft and components. On the fixed wing side, Vector recently broke ground on a new US $40-million facility in Singapore that is being purpose-built for the Pratt & Whitney engine powering Bombardier's Dash 8 aircraft.
The 5,200 square-metre facility will be equipped with full engine overhaul and test capabilities, and will be one of only three such facilities worldwide.
Over on the helicopter side of operations, in late fall of 2013 Vector Aerospace Helicopter Services – North America (HS-NA) announced the commencement of its Eurocopter AS332L Super Puma helicopter leasing and by-the-hour support program. During 2013 HS-NA had upgraded eight of its 11 AS332Ls, and delivered the first Super Puma to a customer in Los Andes, Peru.
Also in late 2013, Sikorsky Aerospace Services appointed Vector Aerospace's UK facilities as authorized Customer Service Centres (CSC) to support the popular S-76 twin-engined helicopter.
"Vector Aerospace is recognized as a leading provider of MRO services," said Frank DiPasquale, SAS vice-president, business development and strategic relationships.
"We are pleased to work with Vector Aerospace and look forward to future opportunities to strengthen our relationship and enhance our support capabilities for Sikorsky's commercial operators throughout Europe."
Vector Aerospace's facility in Gosport, Hampshire, is a long established provider of maintenance for a range of rotary-wing platforms.
Another milestone for Vector Aerospace UK came in late December 2013 when the firm delivered a repaired French Lynx Mk4 to the end customer. The Lynx is a British multi-purpose military helicopter built by Westland Helicopters at its factory in Yeovil. It was originally intended as a utility craft for both civil and naval usage, but military interest led to the development of both battlefield and naval variants. Now used by at least a dozen nations, the Lynx is said to be the world's first fully aerobatic helicopter, and in 1986 a specially modified version set an official airspeed record for helicopters at 249 miles per hour (400 kmh).
"I am pleased that we have quickly and effectively completed our first international Lynx Depth repair contract in collaboration with Eurocopter," said Ross Powlesland, operations director for helicopters for Vector Aerospace UK. "This contract completion demonstrates that our rotary wing business continues to diversify, in defence and commercial, as we expand into the civil sector and apply our unique knowledge, experience and expertise gained from many years of military MRO provision".
The aircraft arrived at the company's Fleetlands site in early July and was inducted into the facility at the beginning of August. Despite having significant structural repair work, requiring the use of the main build jig, the aircraft was returned to the customer at the beginning of December.
"The completion of this contract is an important milestone for Vector Aersopace UK", said managing director, Michael Tyrrell. "It demonstrated flexibility and agility in meeting our customer's requirements, proving that our technical excellence and lean approach are amongst the best in the MRO industry."
And from Vector's Richmond, BC headquarters came news that HS-NA had inked a five-year, exclusive MRO support contract with Blackcomb Aviation. This agreement will cover Blackcomb Aviation's fleet of Rolls Royce M250 Engines, Turbomeca Arriel 1 and 2 Engines, and Eurocopter AS350, AS355 and EC130 Dynamic Components.
Blackcomb is a privately owned helicopter and jet charter company, headquartered in Vancouver, BC. The company operates multiple aircraft out of British Columbia bases in Vancouver International Airport (YVR), Squamish, Whistler, Pemberton, Lillooet, Bridge River Valley, Sechelt, Victoria, and also in Arizona.
"Blackcomb Aviation entrusted Vector Aerospace as its Rolls-Royce, Turbomeca and Eurocopter fleet MRO provider because of the superior quality of service and fast turn-times they provide to their customers," said Jonathan Burke, president and COO of Blackcomb Aviation. "We look forward to receiving high quality MRO service from Vector over the next five years through this agreement."
Vector provides nose-to-tail support to more than 3,000 military, commercial and private customers in over 85 nations with MRO services for helicopter operators including engines, components, avionics, structures, parts fabrication and accessories. The company holds designations from four OEMs, including Pratt & Whitney, Rolls-Royce, Airbus, Sikorsky, General Electric and Turbomeca, and employs approximately 2,700 people in 21 locations across Canada, the United States, United Kingdom, France, South Africa, Kenya, Australia and Malaysia.
Vector Aerospace was expected to be one of the many major exhibitors attending HAI-Heli-Expo 2014, scheduled for late February in Anaheim, California.
About The Author