October Memories
— September 30, 2013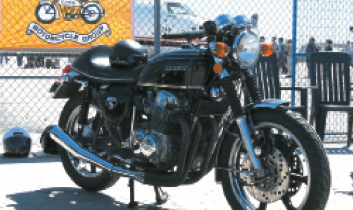 Fall is one of my favorite seasons. The weather gets cool, the leaves begin to turn, and it's always a great time of year for bargain prices on motorcycles.
It was the autumn of 1976, and I had just returned to Toronto from Nordair in Montreal. Flush with remaining funds and a promising new job at de Havilland, it was time to buy another motorcycle. I was 22 years old and my younger brother, Chris, drove me to see the bike in his well-used 1967 Pontiac Acadian. The motorcycle in question was a metallic green 1973 Honda CB750 with 8,000 miles on the clock and in nice original condition. The battery on the bike was dead, so we boosted the bike from Chris's Acadian. The marginal battery was a great bargaining tool and I managed to talk the owner down from $1,500 to $1,400. The deal was struck and the bike was mine. It's hard to believe now, at the age of 59, I have not missed a single riding season on that same motorcycle for 37 years.
We have definitely experienced a lifetime of changes together but, through it all, my trusty Honda Four has persevered. I almost sold it once when I was laid off from de Havilland for three months. At the last minute I came to my senses and sold my car instead.
Every winter, without exception, the bike has been modified and improved, often under strange circumstances. It was stored in furnace rooms, friends' garages, my apartment, and finally in "Honda Heaven", my current workshop. The Barnett clutch was installed in my first wife's courtyard behind her apartment. The black paint job was done in a buddy's back yard after someone stole my right side cover. The Wiseco 836 kit was done in my basement a few months after my son was born. (Ever try installing an over-bore kit without making noise that might wake the baby?) My son, Spencer, 26 years later, has ridden the bike numerous times and now quite likes the noise that 836 kit makes.
So many changes have been made to the bike, sometimes it's hard to remember them all. I bought the electronic ignition in the early '80s when I was working for Air Canada. I flew to Los Angeles one weekend just to get a good price on it. For the first two seasons after installing it, I kept the points plate stashed under the seat, just in the case the newfangled electronic component crapped out. I have since come to trust it. Once a season, I put the timing light on it just to verify perfect timing, and then forget it.
As best as I can figure, I have gone through about eight sets of tires in approximately 75,000 plus miles, redone the brakes a few times, changed the oil twice a season and synchronized the carbs at least 20 times. And although I've had my share of close calls, I only crashed once. It went out from under me at Spadina and Front streets in downtown Toronto. I watched horrified as it slid and hit the curb breaking the original speedometer. I still have that gauge sitting on a shelf with 32,494 miles peeking through the shattered glass. It's a great reminder to take it easy.
There is definitely something special about owning and riding one bike for such a long period. It becomes your benchmark for all other motorcycles. Many other more modern Hondas have come and gone in my collection, yet it is often difficult to choose my ride when I see old faithful gleaming beneath the shop lights. Just like a favourite pair of comfortable old shoes, sometimes you just can't help but select them over the shiny new ones.
Speaking of selection, when I asked my son, Spencer, which two bikes he wants from my Honda collection once "my odometer" runs out, he didn't hesitate: "I'll take the 650 Hawk and the old 836, Dad!" With a bit of luck and regular oil changes, that old Honda hot rod may well last into his 50s and beyond.
Of course, I am not quite finished with it just yet. It seems the older we get, the harder it is to let go of the past. Out for a ride on a beautiful Sunday morning, that old bike and I can transcend time. I can be 22 again, riding the hottest motorcycle on the planet. Winding through those gears, all is well with the universe, and life is good. Sometimes on those really special days I can even imagine hair under my helmet.
I guess it is true what they say about old couples. Being together for a long time often does cause them to look alike. It seems that phenomena can transcend all types of relationships. It certainly explains why, after 37 years together, the old Honda and I are both showing a lot more chrome!
About The Author