AMU Chronicles: 7 Heaven
— February 01, 2013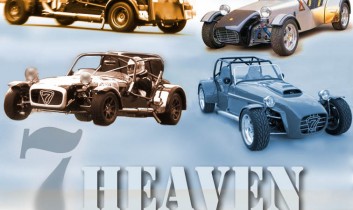 It all began one evening at Air Canada as we rolled down Golf taxiway towing a Boeing 727 to the hangar for midnight shift. Fellow aircraft mechanic Paul Morris and I were talking cars. As fate would have it, other wheels would soon be turning as a result of our cursory conversation. "How's the BMW running?" I casually inquired. "It's for sale," he replied. "I am buying a Super Seven kit car."
His statement caught me off guard and my envy escalated as he fed me the technical details. "It's a Canadian-built Lotus Super Seven replica with a Toyota twin cam engine and a five-speed gearbox. It will do 0 to 60 mph in six seconds flat, and it's affordable!"
It sounded too good to be true. He taunted me further, his next statement sealing my fate: "Sam, what could it hurt to check out this guy's shop?"
George Fejer had a small shop in Newmarket, Ontario, just north of Toronto. Smitten with curiosity, I ventured up for a peek during my next set of days off. Well, I have seen tidier garages in my time, but none so magical. These shiny little Lotus replicas were rolling out, and people were buying them up as fast as they could be built. I was now officially hooked.
You have to be pretty crazy to buy a Super Seven in the best of climates. With no heater and limited protection from the elements, the word "obsessed" comes to mind. None of that mattered because our emotions had clearly clouded our better judgment. Paul sold his mint, modified BMW 2002. I sold my Mustang Cobra, and we ordered two of the high-performance Twin Cam versions. A rusty old Honda Civic was purchased as my winter transport, and the wait began.
As I recovered from horsepower withdrawal, I fabricated a custom burled walnut dashboard for my Seven. Many other parts were removed from the unfinished car for chroming. The front A-arms, springs, roll bar, grill, and other bits were plated and reinstalled. A good friend returned from England with a lovely walnut Lotus shift knob. An architect in California sent me reproduction MGA twin cam badges for the dash and engine cowl. Slowly, it all came together.
Spring finally arrived and so did our cars. Paul's Seven was dark metallic gray with black interior and mine was British Leyland blue with chrome and wood trim. Original Lotus crests from San Francisco and stainless steel fender guards finished the detailing.
Our own modifications continued, some to make the cars better and others to set them right. We formed our own quality control organization. When I found a problem, I'd tell Paul, and he would do the same. We had lengthy discussions about differential failures, loose carb jet holders, fried alternators, and broken throttle cables. We would reluctantly put them up on blocks for the winter, happily sharing our crusty communal axle-puller. I diligently kept a logbook of every repair and modification. It's pages filled fast. It amazed me how a Canadian replica, built with Japanese internals, could be so true to its unreliable British sports car roots. It broke a lot, I fixed it often and drove it with abandon every chance I could.
Our fellow aircraft mechanics had mixed reactions. When the cars were broken, they all thought Paul and I were crazy. When the cars were running and we went wailing out of the parking lot, smoking tires, we only confirmed their suspicions. The senior mechanic on my crew took me aside one day and with fatherly advice said, "Sam, if I owned that car, I would never drive it that hard." My response was honest: "Tom, if you owned it for more than a week, you just couldn't help yourself." Its power and handling were intoxicating.
It was a dream-come-true for sports car fanatics. They were the holy grail of bare bones performance sports cars. They were loud, brash, pretty, and very fast. Whenever mine was parked, it always attracted a crowd. When it was rolling, hunting for Porsche on warm Toronto nights, it was absolute heaven on wheels.
Reality soon caught up with me. When my son Spencer was born, responsibilities prevailed and the Seven had to be sold. My last jaunt was a brisk November delivery, driving from Toronto to Montreal. Its new owner was the foreman of Air Canada's Engine Overhaul Shop in Dorval. In his pristine garage, I turned the key for the last time, tried to ignore my backache, and signed the papers. Ironically, I climbed aboard an Air Canada 727 and was back in YYZ before my kidneys had fully thawed.
The ownership of that car remains a positive memoir from my days at Air Canada. As aircraft mechanics, we all tend to be geared toward bland reliability, but sometimes you just need to go for the gusto. Trust me, none of us will be lying on our deathbed saying "I should have bought another Chevy".
Fortunately, Paul still has his Seven. It continues to run strong after over 30 years of flogging and fixing. Our friendship is sealed forever because for three hot grease-stained summers, we flipped the bird to common sense and shared the same automotive passion.
Whatever your version of Seven Heaven might be, don't wait. Life is too short. Let 2013 be your year. Take that chance and reach for your dream.
For more published writing by Sam Longo, please visit www.samlongo.com
About The Author