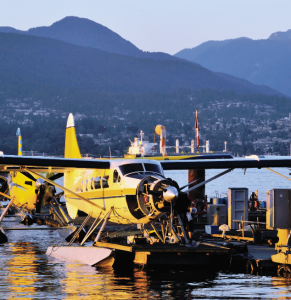 As the publisher of AirMaintenance Update, I know how important quality and accuracy are to the field of aviation. One of the criticisms of trade magazines is that many of the articles are often regarded as "filler." By contrast, the word most associated with AirMaintenance Update is "educational".
At AMU, we encourage editorial contributors to provide the best, most up-to-date information in their features and columns. We invite you to write an article within your area of expertise for inclusion in AMU. By contributing, not only do you educate the public and make them aware of your business and talents, you also gain a position of expertise – a statement that sets you apart from the competition.
This is really why AMU came to be: to help create a platform for the sharing of educational information without the big "pitch". We all benefit from this approach – one which informs, enhances safety in the workplace, and improves everyone's working environment. As well, sharing your expertise can do a lot to inform the readership about your product and/or service.

To make your contribution to AirMaintenance Update, please see the editorial guidelines found in our MEDIA KIT; They are simple, straightforward and easy to follow; don't worry about the editing – we'll make you look good. That's why we're here!
—Sincerely, Bill Carter, Publisher, AMU
email: amumag2015@gmail.com

AMU Magazine receives the Clare Leavens Award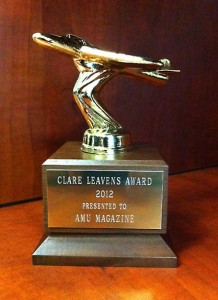 A Note to our Editor at AMU – October, 2012:
It was a complete surprise. An email arrived from the Ontario AME Association telling us that we, Air Maintenance Update Magazine, would be presented with the Clare Leavens Award at their annual symposium in October. The Clare Leavens Award is given to a member of the Aircraft Maintenance Engineers Association of Ontario who, in the opinion of the directors and members, has made a particularly outstanding contribution to the continued success of the association. It is a great honour to be recognized in this way. Thank you to all concerned.
— AMU's Editor