NBAA 2013—Selected Highlights
— September 30, 2013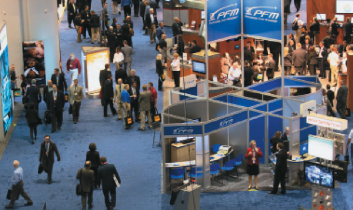 North America's largest business aviation convention and exhibition offers a great reason to get out of the hangar and partake of the buzz with colleagues from all over the world about the newest developments in aviation. On show in Las Vegas, Nevada, October 22nd to 24th, the National Business Aviation Association's annual trade extravaganza has a number of events of particular interest to aircraft maintenance engineers. This year, AMU Magazine will be a booth N304
Opening the confab this year will be the heads of the U.S. Federal Aviation Administration and the U.S. Transportation Security Administration. Michael Huerta and John Pistole will speak from their perspectives about the issues of greatest concern to the industry. In a separate session, a panel of FAA safety representatives will present an update on aircraft operations, maintenance and training for business aviation.
In addition to government representatives, experts will be on hand to discuss the latest technologies. Justin Vena, a veteran avionics technician, will brief participants on the evolution of future air navigation systems (FANS). He will explain the operation of controller pilot data link (CPDLC) and automatic dependent surveillance contract (ADS-C), including details about their initial set up and components included in a typical system. Vena will review certification as well as upcoming mandates for Europe and the North Atlantic.
A panel of leaders from Gulfstream, Honeywell and the International Business Aviation Council will examine issues surrounding sustainability and efforts being made to reduce carbon emissions by the industry worldwide. Alternative fuels – in conjunction with new aircraft design technologies, operational improvements and infrastructure modernization – are the focus of their debate.
The convention has an extensive agenda of maintenance and operations sessions scheduled to provide the latest service guidelines and repair procedures, plus other valuable technical information direct from manufacturers. Members from the NBAA technical subcommittees and operator advisory boards will be presenting their latest findings too. Companies presenting on a variety of aircraft and equipment types include: Bombardier Challenger, Global Express and Learjet; Daher-Socata TBM 700 and 850; Dassault Falcon Jet; Gulfstream; Pilatus PC-12; Pratt & Whitney Canada PT-6; Honeywell Avionics and Engines; and Rockwell Collins Avionics.
And as a tie-in to Gordon Walker's article on NextGen avionics in this issue of AMU Magazine, Colt International is set to reveal OFP, the next generation in online flight planning and trip support technology. Full details will be given at a press conference at NBAA on October 21st at 9 a.m. in Press Room 1 of the Las Vegas Convention Center.
Over the past 14 years, Colt has developed key technologies such as eFuel, Trip View and now OFP. This technology puts the control back in the hands of pilots, dispatchers and schedulers with access to powerful trip planning tools, key data and graphical information. Harnessing the power of Google Maps and Google Earth, OFP renders flight details, such as route, altitude and weather in 3D rather than text. This is displayed side-by-side with key data, such as regulatory requirements, fuel quote/set-up and airport information.
This year, both indoor and outdoor static displays of aircraft will complement the technical track, and NBAA promises "unprecedented access" to the models. New this year, the indoor exhibition will feature about 15 light business airplanes – piston singles as well as light turboprops – and helicopters. For the outdoor display staged at Henderson Executive Airport, about 100 aircraft, from smaller types to intercontinental jets, will be showcased. Additionally, attendees will have the opportunity to visit the more than 1,000 booths spread across one million square feet of floor space. AirMaintenance Update will be there too, so feel free to stop by for a chat. We look forward to seeing what we can do for you.
Visit AMU Magazine a booth N304
For more information about this year's convention, please visit: www.nbaa.com
About The Author